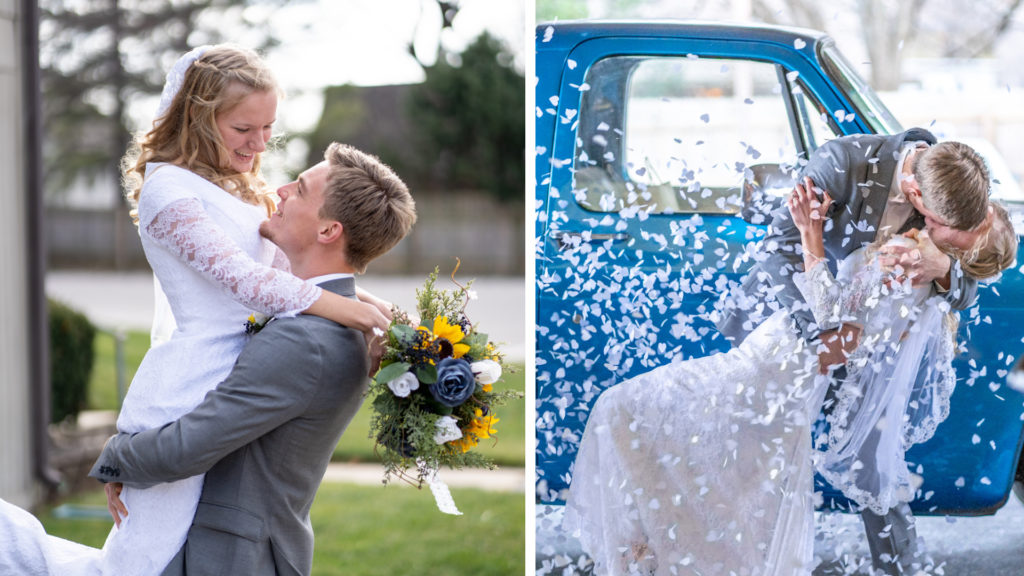 It was a cold day the week before Christmas, but that didn't put a damper on the day for sure! This was an amazing wedding for an amazing couple. I had an absolute blast shooting this wedding! Everything was so beautifully done. It was an honor to be a part of the day.
The ceremony was held at Tri-City Baptist Church in Blue Springs, MO. When you first walked in the door you would find the place to sign your name. But instead of the traditional guest book, guests would sign on the photos that were lying on the table, from the engagement photoshoot. It was a really cool idea, and it looked really good. There were several chalkboard word-art pieces that were really well done. Everybody brought their a-game to this!
After the ceremony, everybody cleared out of the auditorium, and in no more than 7 minutes, all the chairs had been moved, and tables positioned, and the reception was ready to go! Instead of the classic wedding cake, they had a cookie cake and a spread of many different types of cookies. It was a really neat idea.
At the end they ran out to the truck through heart-shaped confetti, amid wild cheers and screams!
Organizer: Emily Heney
Cookie cake: Savanah Toh
Venue: Tri-City Baptist Church